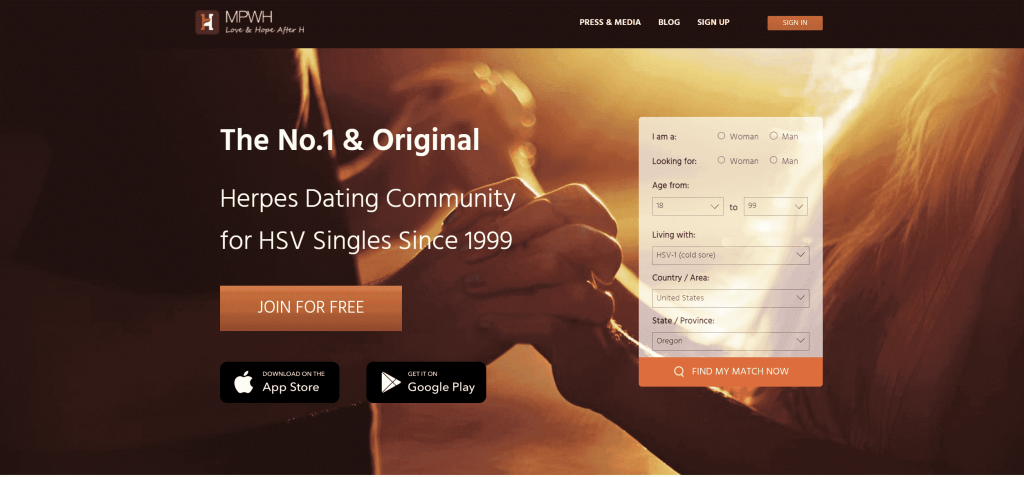 MPWH Overview
An exceptional Herpes dating community, MPWH is committed to offering a secure, stigma-free, nondiscriminatory, warm and pleasant online dating environment for its members. It is completely free to establish a profile that is 100% anonymous and to begin communicating with other Herpes Singles just like you at this very moment.
The website has a lot going for it, including a user-friendly interface, thousands of images contributed by users, an easy-to-use navigation bar at the top of each page, and a range of additional services such as chatting and daily email alerts about new profiles uploaded to the website. MPWH should be at the top of your priority list if you are looking for an easy way to find new prospects without having to go through an awkward conversation about your status or risk being rejected because of your condition.
Login
It's quick and simple to sign up. Simply click the "Sign Up For Free" button and provide the necessary details, including your username, email address, birthday, height, and location. Then click on "establish an account" after checking the boxes next to the service agreement and privacy policy. To do this is completely free.
You will also need to provide some information about yourself, such as your profile headline, an "about me" section, and the kind of partner or individual you are looking for.
Pricing
There are three types of membership available. The following prices should be noted as being in USD.
You must pay $29.95 for a one-month membership, or $1 each day.
You must pay $59.95 for a 3-month membership, or $19.95 per month.
You must pay $95.95 for a 6-month membership, or $15.95 each month.
You must manually switch off the billing for all one-month memberships because they all renew automatically. On the top menu, select "My Settings" and then "Other Membership Services." Please be aware that you might be contacted for security reasons in order to confirm your charge.
Features
The "Let's MEET!" The component of MPWH is an intriguing feature. The top menu item opens a page where you can view member profiles and decide whether or not (yes or no) you wish to meet them based solely on their appearance. For those who are unsure, there is also a choice called Maybe. This tool's coolest feature is the ability to view your shared hobbies. In other words, if you and someone else are interested in each other, you will be able to view each other in this section's mutually interested tab. It is a swift and effective technique to browse some profiles and see who you click with without having to approach them and risk their rejection.
Privacy and security
There is no membership screening at MPWH.com. Therefore, exercise caution when conversing with or meeting MPWH members. Never provide personal information and always meet in a public location while utilizing your own means of transportation.
Your privacy is crucial, thus they make sure that you can create a profile in an entirely anonymous manner. Even when you participate in the verification procedure, all information you provide will remain private. MPWH offers a variety of privacy options to assist you in preventing undesirable herpes singles from viewing your profile or your photos. They only use the personal data you provide to better manage the website and get in touch with you if necessary. Your data is never rented out or sold to third parties. Please read the privacy section in the footer menu before registering if you have any privacy concerns.